Birds in This Story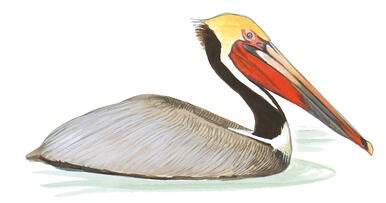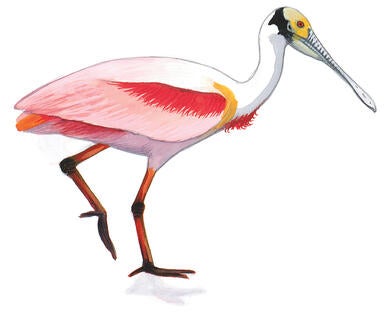 | National Wildlife Refuges | National Parks | Acreage of Important Bird Areas |
| --- | --- | --- |
| 24 | 5 | 11,651,805 |
There's no city in the United States like New Orleans, and there's no culture more distinctive than that of the Cajuns of southern Louisiana. For a traveling birder, those rewards add to the appeal of a state full of productive national wildlife refuges, pinewoods, barrier islands, and wetlands. Who doesn't enjoy great food and music after a day of birding?
Many of Louisiana's best birding sites are within 50 miles or so of the Gulf Coast—and some are on the coast, such as famed spring fallout spots Grand Isle and Peveto Woods. Wildlife refuges in the southwestern part of the state, including Lacassine and Cameron Prairie, provide at least some dry-land access to Louisiana's truly vast expanse of wetlands. (Some estimates assert that Louisiana's wetlands comprise 40 percent of those of the entire continental United States.)
Birds that could be considered target species in Louisiana would include Black-bellied Whistling-Duck, Fulvous Whistling-Duck, Mottled Duck, Anhinga, Roseate Spoonbill, Swallow-tailed Kite, Yellow Rail (there's an annual festival in the town of Jennings dedicated to this elusive species), Red-cockaded Woodpecker, Brown-headed Nuthatch, and Painted Bunting.
Louisiana Birding Hotspots
On Louisiana's southern coast lies a barrier island about seven miles long that holds a legendary place in the minds of the state's birders. The woodlands here comprise one of the best "fallout" sites for spring migration, where northbound birds that have crossed the Gulf of Mexico stop to rest and feed. Add that to the long list of vagrant birds that end up here and to the shorebirds and seabirds found along the coast, and you have a species list that tops 300.

The peak for spring migration occurs around mid-April, and it's then that it seems every tree has a birder peering up into its branches. He or she may be looking at a limb loaded with Gray Catbirds or Scarlet Tanagers or mixed warblers. The list of possible birds at Grand Isle in spring is essentially the list of all the migrant land birds of eastern North America, and a substantial number of sea- and shorebirds.

Hardcore birders also know Grand Isle as a place where seeing a rarity is hardly rare. A Fork-tailed Flycatcher or Black-whiskered Vireo or Varied Thrush might appear anywhere. (While spring is the top time at Grand Isle, many rarities show up during fall migration.) Of course, Grand Isle is also a fine place to see shorebirds along the beaches and mudflats and wading birds in the marshes, and these birds aren't so seasonal-dependent.

Various nature organizations have purchased land around the island as bird sanctuaries, and a state park occupies the eastern end. As is usual with "fallout" sites, the day after bad weather is usually the best time to be out birding.
Although this expansive refuge suffered damage from Hurricane Katrina in 2005, it still offers excellent birding near New Orleans. In total, more than 270 species have been observed here, from waterbirds to migrant songbirds. Much of the refuge is wetland that's not accessible to the public, but the Ridge Trail allows excellent wildlife viewing.

Parking for the Ridge Trail is on the north side of Highway 90 about four miles east of I-510. From here, a boardwalk leads through wetlands and scrub. The levee here can also be walked for additional viewpoints.

Another access area is located on the south side of Highway 90 just east of the Ridge Trail. More marsh viewing is possible by taking Highway 11 north from Highway 90 and stopping carefully along the roadside.

Some of the notable species seen often at Bayou Sauvage include Black-bellied Whistling-Duck, Mottled Duck, Anhinga, Brown Pelican, Roseate Spoonbill, Gull-billed Tern (spring through summer), Black Skimmer (most common in late summer), and Painted Bunting (spring through summer).
A wonderful natural area just a short drive south of downtown New Orleans, the Barataria Preserve tract of Jean Lafitte National Historical Park protects around 23,000 acres of woods and wetlands. It's not known for any particular rarity, but for a rewarding day of birding in beautiful surroundings it can hardly be topped.

Since it's a unit of the National Park Service, Barataria Preserve has a fine visitor center on Highway 45 where you can get trail maps, a bird list, and advice. Many miles of trails wind through the preserve, accessing live-oak woods, bald-cypress swamp, and marsh.

The woodland vistas here are truly sublime, with the spreading limbs of live oaks covered in Spanish moss and dwarf palmettos in the understory. Some of the bald-cypresses here are hundreds of years old. The Bayou Coquille Trail is a favorite of local birders. Parts of some preserve trails are wheelchair-acccessible.

The preserve's list of more than 200 species includes breeding birds such as Yellow-crowned Night-Heron, Mississippi Kite, Red-shouldered Hawk, Prothonotary Warbler, Hooded Warbler, Northern Parula, Yellow-throated Warbler, and Painted Bunting. Spring songbird migration can be good, too, although the birds aren't as concentrated in this expansive forest as they are in small coastal woodlands.
New Orleans, on the south side of Lake Pontchartrain, gets all the publicity, but the north shore is home to several appealing communities, as well as worthwhile destinations for birders. One such site is Big Branch Marsh National Wildlife Refuge.

A tour here might start with the refuge visitor center in Lacombe, for maps and local advice. From there it's only about three miles to the boardwalk trail and hiking paths on Boy Scout Road. Other primitive roads are located off Paquet Road to the east.

The main attraction at Big Branch Marsh is a small population of Red-cockaded Woodpeckers, an endangered species that depends on old-growth pinewoods. This refuge is one of many around the southeastern United States with a program to restore the species's population. Red-cockaded Woodpeckers can be hard to locate, so it helps to know their raspy call.

The refuge is also home to two other species associated with pinewoods: Brown-headed Nuthatch and Bachman's Sparrow. Once again, it's important to know the squeaky call of the nuthatch and the whistled song of the sparrow. Other species nesting around the refuge include Mottled Duck, Osprey, Bald Eagle, Red-headed Woodpecker, Pine Warbler, and Blue Grosbeak.

On Lake Pontchartrain just five miles west of Lacombe, Fontainebleau State Park boasts a bird list of more than 220 species and makes a good birding destination (though it can be crowded on weekends). Waterfowl, wading birds, and Bald Eagle can be seen from shore, and Brown-headed Nuthatch is sometimes seen in pines here.
Located just east of the city of Lafayette, Lake Martin and the associated Cypress Island Preserve host one of Louisiana's greatest bird spectacles in breeding season.

Hundreds of wading birds—herons, egrets, night-herons, ibises, and Roseate Spoonbills—nest here, easily visible from boardwalks, a road the hugs the eastern shore of the lake, and a walking trail around the north end of the lake.

Peak season is about March through May, although there's always something to see at Lake Martin. The Nature Conservancy operates a visitor center on Highway 353 (open seasonally) where first-time visitors can get advice.

With a large protected area of bald-cypress and tupelo swamp, as well as bottomland hardwood forest, Lake Martin hosts much more than wading birds. Some of the other species found here include Black-bellied Whistling-Duck, Neotropic Cormorant, Anhinga, Mississippi Kite, Red-shouldered Hawk, and Common Gallinule in wetlands. Land birds include Barred Owl, abundant woodpeckers, Prothonotary Warbler, Yellow-throated Warbler, and Painted Bunting.
Southwestern Louisiana is home to vast areas of marsh and other wetlands, but access to most of the region is difficult without a boat and local knowledge. Lacassine National Wildlife Refuge offers an easy way to enjoy typical wetland birds. With a list of more than 250 species, it's one of the birding hotspots of southern Louisiana.

The refuge is reached from Highway 14. Once inside the area, the usual strategy is simply to drive the several miles of gravel roads, stopping wherever the birds are to scan the open water and vegetation. An elevated viewing platform on the loop drive allows slightly wider coverage.

Possible birds here comprise practically every regional species of waterfowl and wader. A few notable species found year-round are Black-bellied Whistling-Duck, Fulvous Whistling-Duck, Mottled Duck, Neotropic Cormorant, many waders including Roseate Spoonbill, Common Gallinule, Forster's Tern, and Marsh Wren. Present in nesting season are Least Bittern, Purple Gallinule, and Painted Bunting. In winter, many thousands of geese and ducks are present at Lacasssine.

Although the waters of the refuge are the main focus, be sure to stop at patches of willows and other shrubs and vegetation for songbirds in migration, and take time to quietly stand and watch marshy areas for shy species such at bitterns and rails.
Located on Highway 27 just north of the Intracoastal Waterway, Cameron Prairie Wildlife Refuge provides birders with a great way to experience Louisiana wetlands on its 3-mile Pintail Wildlife Drive loop.

Before beginning the route, stop at the visitor center on the highway to see exhibits and pick up a map and bird list. Then drive south two miles to the entrance to the wildlife drive on the east side of the highway. It can be tempting to stop along Highway 27 to enjoy birds in roadside wetlands, but there are very few safe places to pull over.

More than 230 species have been observed on the Pintail Wildlife Drive, with (as is usual in southern Louisiana) waterfowl and wading birds the most conspicuous. The drive passes more than wetlands. Especially in migration, take time to scan grassy areas and search roadside trees and shrubs. There's a boardwalk path along the drive allowing a closer inspection of the marsh habitat.

Both species of whistling-duck breed in the area, and in winter Ross's Goose is regular among the masses of Snow Geese. The shallow water means mostly dabbling ducks here, with relatively fewer divers. Roseate Spoonbill is one of many common species of long-legged waders. Purple Gallinule nests here, and Black-necked Stilt and Marsh Wren are present year-round. In recent years, Crested Caracara has boomed in numbers in southwestern Louisiana, and is seen regularly at Cameron Prairie. Note that this area is one of many places now where both Boat-tailed Grackle and Great-tailed Grackle are found in proximity, as the latter continues its range expansion.
Not much of expansive Sabine National Wildlife Refuge is easily accessible to the public, but one exception is found on Highway 27 about seven miles north of the coastal community of Holly Beach, or about 14 miles south of Hackberry.

The refuge's Wetland Walkway is simply an elevated path through a marshy area west of the highway, adjacent to a canal. Yet more than 200 species have been observed in this immediate area, testimony both to the richness of wetlands habitats and to the ability of the scattered trees and shrubs here to attract migrant songbirds, especially in spring.

The 1.5-mile path is handicapped-accessible and has an elevated viewing platform. Insects, heat, and humidity make a mid-summer visit in advisable, but the walkway is a delightful stroll at other seasons. The third week of April is the peak time for spotting migrant vireos, warblers, and other songbirds.

This is a good spot to look for Least Bittern in spring, among the many more-conspicuous waders. Roseate Spoonbill is present often.

While you're in the area, it can be productive (from late summer through spring) to drive southeast to the town of Cameron.. Though it's less than 20 miles, you must cross the Calcasieu River on a ferry, which adds to the time. In town, turn south on Davis Road and drive about 2.5 miles to the end of the road. When the tide is right, very large numbers of waders, shorebirds, gulls, and terns can be present here.
Like Grand Isle 200 miles to the east, Peveto Woods Sanctuary is a famed "fallout" site during spring migration, where northbound birds that have crossed the Gulf of Mexico stop to rest and feed. This 40-acre woodland of live oak and hackberry trees on the Gulf Coast was saved from development and has long been a favorite birding location, with more than 300 species recorded.

The spring rush begins about mid-March, increasing to a peak in late April, with some songbird migration continuing through May. The ideal time to visit is just after a front has moved through, with north winds that tire trans-Gulf migrants and cause them to flock to the first coastal woods they see. At times a tree can be temporary home to a half-dozen Cerulean Warblers, Rose-breasted Grosbeaks, or Orchard Orioles.

Some birders wander through the sanctuary's trails, looking for flocks of birds in the trees. Others prefer to pick a spot and let the birds come to them. Often there's a small pond in the center of the sanctuary with a water drip and nearby seating, and spending time here is a favorite birding technique for some visitors.

Although dawn can be a good time for birding, the timing of waves of cross-Gulf migrants varies with conditions, so it's not unusual for a section of woods to come alive with recent arrivals in midday or mid-afternoon.

Fall doesn't have the thrills of spring at Peveto, but many rarities have shown up at that season, such as Vermilion Flycatcher, Ash-throated Flycatcher, Great Kiskadee, Red-breasted Nuthatch, and Townsend's Warbler.
In north-central Louisiana, Catahoula National Wildlife Refuge is an excellent all-around birding destination, with more than 210 species on its list. Although a major focus of the refuge is water management to attract wintering waterfowl, it's also managed to provide habitat for migrant shorebirds in late summer, and its habitats include extensive bottomland hardwood forest.

The most common way to explore Catahoula is to drive its 9-mile Duck Lake Wildlife route, which encircles an impoundment where waterfowl hunting is not allowed. It's easy to stop along this road and bird open water or woodland. The route also provides access to an observation tower and hiking trails. It's a good idea to stop at the refuge headquarters just off Highway 84 to get a map and ask about trail conditions. Brochures are available if the office is closed. Keep in mind that hunting for deer and other species is allowed on the refuge seasonally.

Catahoula is a fine place to enjoy songbird migration in spring, and its nesting species include Barred Owl, Red-headed Woodpecker, Prothonotary Warbler, Kentucky Warbler, Hooded Warbler, Yellow-throated Warbler, and Painted Bunting. August may be the peak time for shorebird-watching, with 15 or more species present. In late summer, too, look for Wood Stork and Roseate Spoonbill among the many herons, egrets, and ibises.

Winter is the time for waterfowl at Catahoula, when common species include Greater White-fronted Goose, Snow Goose, Gadwall, Mallard, Northern Shoveler, Northern Pintail, and Ring-necked Duck. Wood Duck is common year-round.
Birding Trail
Louisiana's Gulf Coast region forms a generous jambalaya of all the ways that water and land can meet: lakes and rivers, cypress swamps, gum and tupelo bayous, flooded rice fields, freshwater marshes, salt marshes, mudflats, and sandy beaches. When locals say this birding trail crosses "America's wetland," it's no idle boast. But don't take my word for it; find out for yourself by visiting any of the 115 sites along the trail's 12 loops. On the outer coast, brown pelicans have recovered from their population crash of decades past, and passing flocks can be seen constantly. Shallow lakes and swamps support a wealth of waders, including snowy egrets, little blue herons, and tricolored herons. Elusive marsh birds are easier to see here than practically anywhere else, and you may get your best looks ever at buffy little least bitterns, rusty-red king rails, and other skulkers. Easier to spot are the flocks of ducks and geese that arrive for the winter, including major populations of greater white-fronted geese and snow geese. If you can tear yourself away from the water, the trail also offers concentrations of warblers, vireos, thrushes, and other migrating songbirds during spring and fall. —Kenn Kaufman
Audubon State Office and Centers