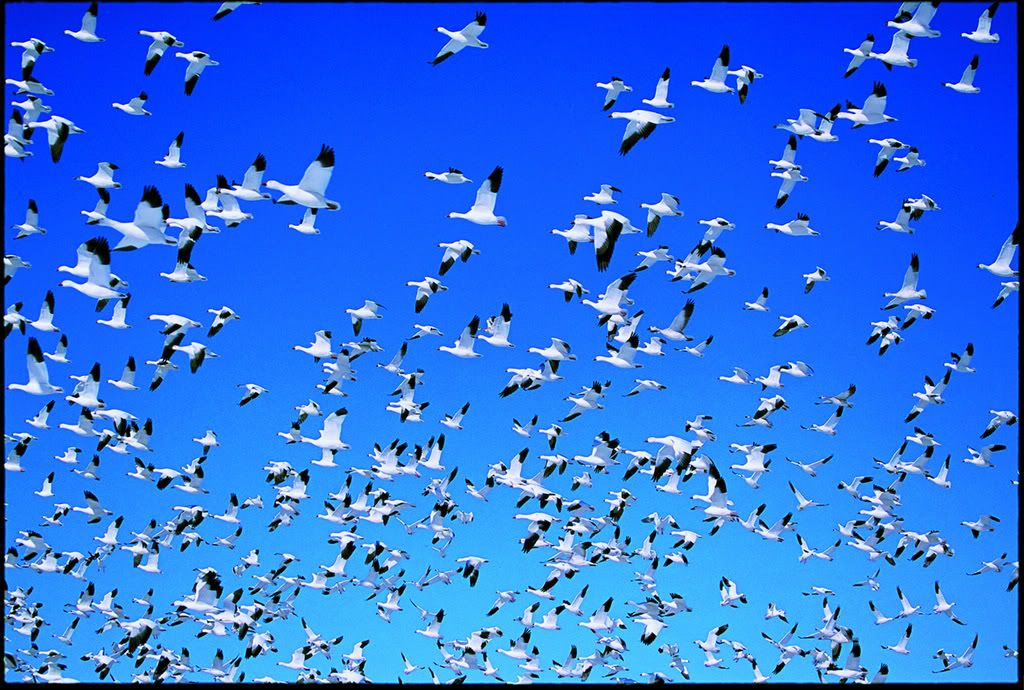 Snow geese (By Hugh Rose)
As it often does, the weather here in Seattle this year seemed to turn overnight. From 80 and sunny one day to downpours the next, fall has officially begun in the Northwest. And just like they always do, Seattleites have donned their rain coats and hats without complaint-- almost as if by instinct--and switched from iced to hot coffee drinks while opting for sneakers rather than sandals for the morning commute on bicycle, slowly making the transition into the colder months. In the same way many Arctic birds, having bred and raised their young in the constant daylight summer of the north, are gearing up to fly south for the winter.
The travel from their summer breeding grounds to their winter roosts in warmer temperatures is an example of the amazing feats birds can achieve. Some migrations involve more than 10,000 miles and non-stop days of flying to reach their destinations. We sometimes see these birds stop in our backyards for snack and a rest, but hardly ever do we see them as up close and as beautifully than in the new Arctic Wings: Miracle of Migration photography exhibit at the University of Washington's Burke Museum of Natural History and Culture, a traveling show going on now until December 31 in Seattle. The small walk-through features photos from seven photographers who spent significant amounts of time in the Arctic National Wildlife Refuge catching migrating birds and the complex and pristine Arctic landscapes at their best through film.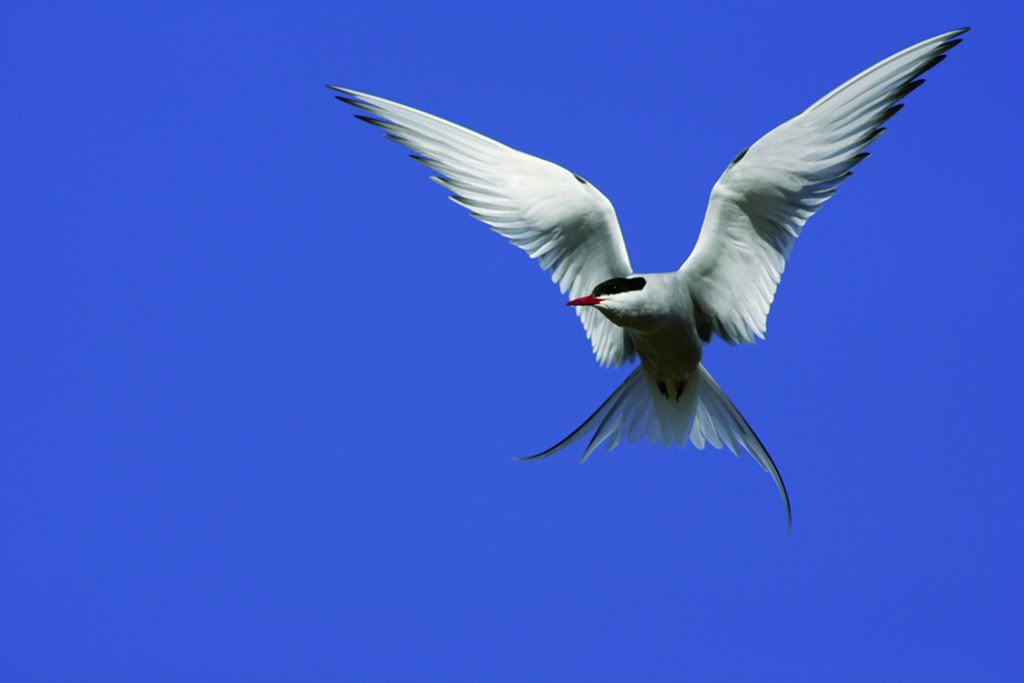 Arctic tern (By Arthur Morris)
A buff-breasted sandpiper resembles the director of a church choir with his chest puffed out and wings outstretched to try to impress a mate. A Lapland longspur looks towards his next perch as he sits atop brilliant purple lupines in bloom, and a harlequin duck makes a splash landing in an action shot that catches the clarity of the lake while showing off the duck's painted plumage. Little yellow eyes pop out from a pile of gray fluff as snowy owl chicks huddle together for warmth.
Each photo caption names the species, its average length and weight, its wingspan, summer breeding range and winter range as well as various fun facts. While not quite interactive enough to keep younger children entertained, the exhibit features a birdsong soundtrack playing over the loud speakers and a video of some of these birds in their habitats that almost give it the feel of the serenity and quiet of a cold winter's day in the Northwest.
The Burke Museum is open daily 10 a.m. to 5 p.m. On the first Thursday of every month, admission is free and the museum stays open until 8 p.m., but the rest of the month admission is $8 for adults, $6.50 seniors, $5 for students with I.D. and youths. Children under 4 are admitted free and Burke membership is available.
For information visit http://www.washington.edu/burkemuseum/ or call 206-543-5590.
You may also be interested to see The Last Polar Bear: Facing the Truth of a Warming World, an exhibit right next door to Arctic Wings that features photography by Steven Kazlowski, a photographer previously featured in Audubon (see May/June).